Our online Open Mic is Tuesday Next at 8pm.
Today, I'll be Open Mic-ing too but at a live Open Mic event with Spoken Word London.
This group is now very popular. It's one of the most egalitarian groups in London as all poets get five minutes and five minutes only. It's organized by Patrick Cash and Hannah Gordon, who was a regular at our Creative Cricklewood Open Mic, before our pub closed down.
This weekend  Spoken Word London is running an Anti-Hate Festival
Spoken Word London:  Anti-Hate Festival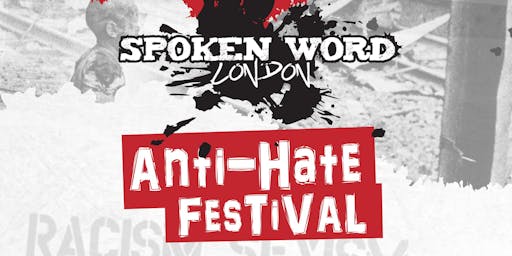 Lots of fun and games expected to happen  including:
Interactive photography exhibition with sound and video installations (work by Cathal Moran, Anthony Adams, Lauren Aimee Marschall, Laurie Poole, Marie DL and George Sydney Selwyn-Brace)
If you're in London and you'd like to come along, pre-booking is recommended. Limited tickets are available on the door. Free entry, but please buy a drink (or more) at the bar.
***
You can find out more about SWL and some of its regular readers in this short documentary.
Or you can watch a feature-length film of Spoken Word London's 'Anti-Hate', made by Timothy Lock.
---
---
If you've been motivated, moved or inspired by my writing, or any of my work, please consider becoming a patron. On my Patreon Page, I offer exclusive poetry to my most loyal readers: my patrons. And there I also offer an Online Open mic and Advice Clinic, "The Prosperous Poet". This monthly event helps to showcase the work of other poets, and advises "poetpreneurs" on how to publish for profit, as well as passion and pleasure, and thereby make a living from their work. 
If you already do support, then a deep bow, and THANK YOU.